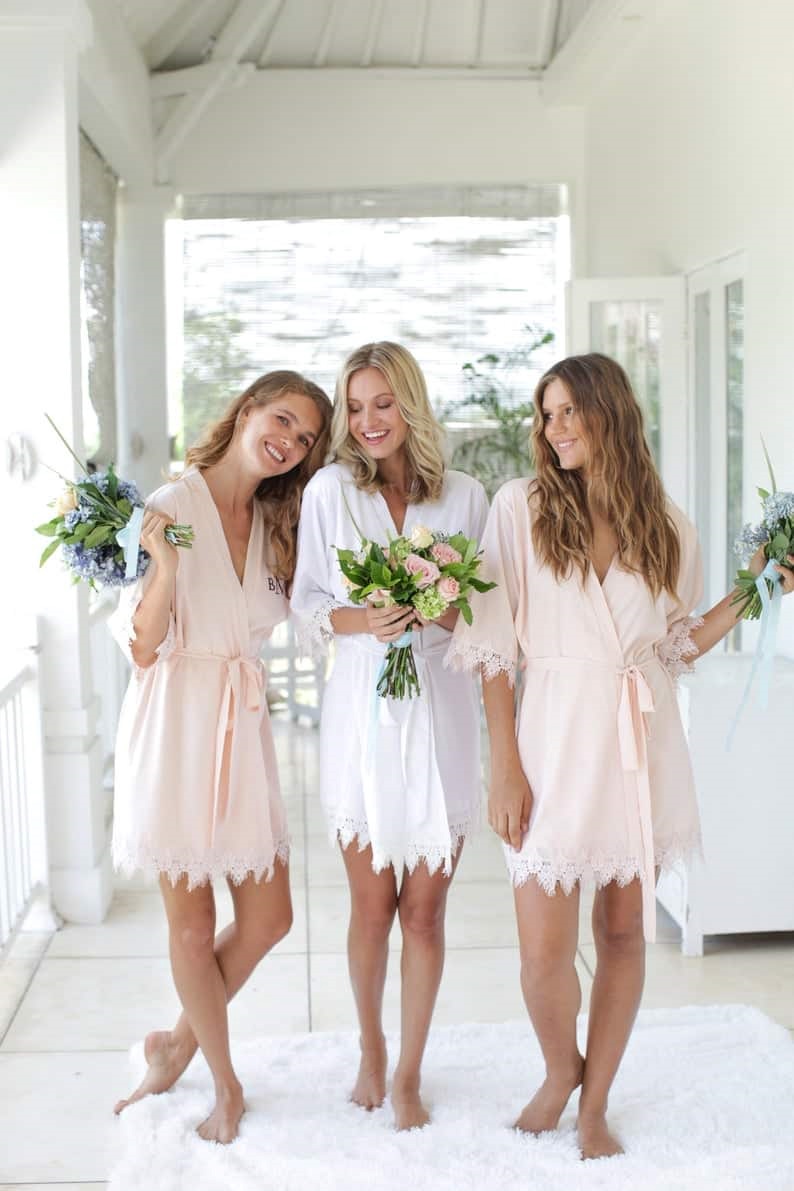 The bridal robe is an exquisite and essential part of a bride's wedding day ensemble. It not only provides comfort and coverage during pre-wedding preparations but also adds a touch of elegance and beauty to the bridal experience. Choosing the perfect bridal robe requires careful consideration to ensure it aligns with your personal style, complements your wedding theme, and makes you feel like the radiant bride you deserve to be.
The bridal robe is not just a beautiful garment; it is an essential part of the bridal ensemble, symbolizing elegance, grace, and the excitement of the wedding day. Choosing the perfect bridal robe involves considering various factors to ensure it complements your personal style, enhances your wedding day experience, and creates lasting memories. This detailed guide will walk you through the process of selecting the ideal bridal robe to make you feel like a radiant bride.
Consider Your Personal Style:
Start by considering your personal style and the overall theme of your wedding. Are you drawn to classic, romantic designs or modern, sleek aesthetics? Determine if you prefer long or short robes, delicate lace or smooth satin, and whether you lean towards traditional white or opt for a pop of color. By aligning your robe with your personal style, you'll feel confident and authentic on your special day.
Fabric and Comfort:
Select a bridal robe made from a fabric that not only looks beautiful but also feels comfortable against your skin. Common choices include silk, satin, lace, or a combination of these materials. These fabrics are soft, lightweight, and provide an elegant drape. Consider the climate and season of your wedding day to ensure the fabric is suitable for the temperature and keeps you feeling comfortable throughout the festivities.
Details and Embellishments:
Choose a robe that incorporates details and embellishments that speak to your personal taste. Delicate lace trim, intricate embroidery, or subtle beadwork can add an exquisite touch to your robe. Consider whether you prefer a robe with sleeves or a sleeveless design, as well as any additional features such as pockets or a waist tie. These small details can make a significant difference in how the robe looks and feels.
Photogenic Appeal:
Consider the visual impact of the bridal robe in your wedding photos. The robe will feature prominently in pre-wedding getting ready shots and may be captured in candid moments throughout the day. Choose a robe that photographs beautifully, enhancing the overall aesthetic of your wedding album.
Choosing the perfect bridal robe involves thoughtful consideration of your personal style, comfort, fabric, details, fit, and sentimental value. Take the time to explore different options, try on various styles, and envision how the robe will enhance your wedding day experience. With the right bridal robe, you'll feel like a radiant and confident bride, creating beautiful memories that will be cherished for a lifetime.