Refrigerators are an important part of any kitchen. Gone are the days when it was deemed as a box just taking up a lot of your kitchen space. With the technological advancements, home appliance companies have come up with fridges that have more features than chilling and fitting into your kitchen interiors. With so many varieties available, it can be a tricky task to choose one that is suitable for your needs. To begin, let's get acquainted with the types of refrigerators offered by Fisher and Paykel.
Direct cool refrigerator
These refrigerators make the use of the convection cooling process in the fridge compartment. They are the most regular types and are money saving as well. The freezer compartment is within the fridge compartment. One con of a direct cool fridge is the formation of ice in the external parts of the freezer. You may have to defrost it manually. But, there are many latest models that now provide auto defrost technology.
Frost free refrigerator
These fridges maintain a consistent temperature in the entire fridge compartment with the help of fans for circulating the cool air within. This gets rid of the odds of ice formation outside the freezer. You don't even have to be concerned about defrosting your fridge manually from time to time. These fridges are also very commonly bought.
Single door fridge
If you are a bit short on your budget or have a small family or the kitchen space is limited, then you can go for a compact fridge with a single door. These fridges bear a freezer and veggie compartment within the fridge itself. This takes up the inner space of the fridge. The capacity of this fridge is not more than 200 liters. These fridges come in cheap and are widely sold as well.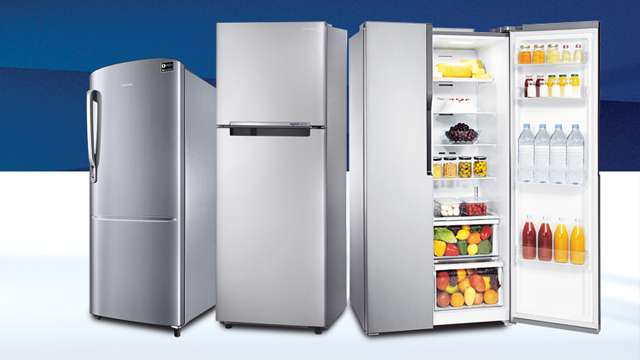 Double door fridge
These fridges have two separate compartments, one for the freezer and another for the fridge. Here, the constant temperature is maintained, no matter how frequently you open your fridge. This fridge type offers more space and is also efficient when considering energy conservation than single door fridges.
Top freezer fridge
Here the freezer is located at the top. So if you keep ice creams, ice or frozen food often, this fridge type is for you. But you may have to bend your knees to get access to the veggies. But it must not discourage you from buying this fridge as they are famous for energy saving.